The Canadian Congress is a national organization with access to over 250 academic & experiential experts, researchers, and facilitators in Equity, Diversity & Inclusion (EDI) that offer an end-to-end strategic framework for organizations, institutions, and the government to eliminate systemic racism from their brand, culture, systems, policies & management.
To enable our clients to foster a cohesive, inclusive and progressive corporate culture, we facilitate customized training programs, audit policies & processes from a critical EDI lens, engage their staff and coach their executives to attract, retain and maximize inclusive diversity & workplace equity.
While we organize some of the largest and most impactful diversity events in Canada, empowering over 10,000 people each year to stand up for social justice, we also help organizations to develop & implement short & long-term EDI strategies & initiatives, a training curriculum, content for Learning Management Systems (LMS), and a 3-to-5-year strategic framework and roadmap to facilitate the transformation of their corporate culture.
At the Canadian Congress, we exist to be a voice that will linger for generations, advocating for love, kindness, unity and the human rights & civil liberties of Canadians, while empowering people, corporations, institutions, communities & the government to foster inclusive diversity & workplace equity.
Nous existons pour être une voix qui perdurera pendant des générations, défendant l'amour, la gentillesse, l'unité et les droits de la personne et les libertés civiles des Canadiens, tout en habilitant les personnes, les entreprises, les institutions, les communautés et le gouvernement.
Every Wednesday, we facilitate a Lunch & Learn for people around the world who are interested in increasing their awareness about social justice, inclusive communication and leadership.
With about a thousand participants since we started it, we are going and growing strong. You may use the link below to join the movement of the Canadian Congress on Inclusive Diversity & Workplace Equity and invite others in your network as well.
Our Lunch & Learn Series will empower you, your staff, and management teams with tips, tools, techniques, and training to facilitate the transformation of your organization, community, corporation, and academic institutions.
Canadian Congress on Inclusive Diversity & Workplace Equity
Equipping decision makers in corporations, government, institutions and communities with strategic tips, tools, techniques, tact, technology and training to ensure balanced representation and equitable policies and practices in their places of work, play and worship while setting the tone and theme for Equity, Diversity & Inclusion work and programs in the country for the New Year.
Scheduled on

Wednesday & Thursday, January 17 & 18, 2024
Register Now
Black History Month -

Celebrating Brilliance and Enabling Representation
Celebrating Black Brilliance & Enabling Black Representation within organizations, institutions, associations, communities & government agencies while advocating for equitable justice & the recognition & economic empowerment of people of African descent. Also, working with partners to formulate strategies to expand Black history & content into organizations & the school system beyond February.
Scheduled every Wednesday in

February, 2024
Register Now
International
W
omen's Day
Empowerment Series
Strengthening the unity and synergy of all gender identities across Canada and globally to empower them with the tips, tools, techniques, tact, technology and training to close gender pay gaps, harassment and shatter systemic barriers while also providing inclusive approaches to gender equity strategies.
Scheduled every Wednesday in March

, 2024
Register Now
National Social

Justice Action Day -

Annual George Floyd Memorial Lecture
Convening leaders in the government, corporations, academic institutions & communities across Canada to advocate for the protection of Black lives & dignity, while sharing personal and corporate progress in the advancement of social justice and the economic empowerment of people of African descent. Also, to recognize UN's Resolution 68/237 proclaiming 2015 to 2024 as the International Decade for People of African Descent.
Scheduled on Thursday, May 25, 2023
Register Now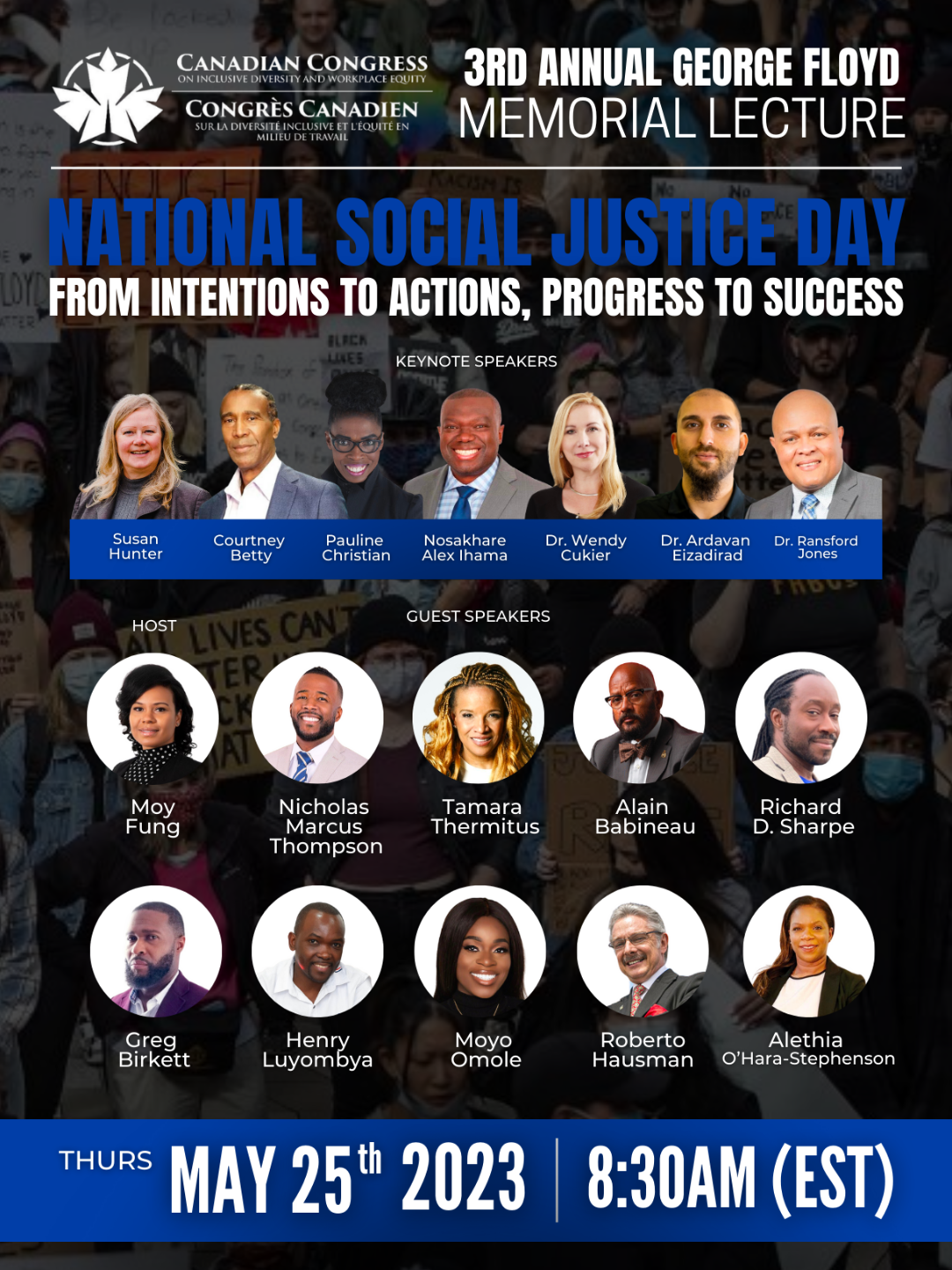 Indigenous Congress
Educating Canadians and the world on the history, art, traditions and cultures of the Indigenous Peoples, as well as their pains, plights and potential. Also, bringing diverse communities together to support and amplify the voices of Indigenous Peoples for social justice, economic development of Indigenous communities, engagement of Indigenous youth and protection of the environment.
Scheduled on Wednesday, September 27, 2023
Register Now
CLIENTS & STRATEGIC PARTNERS